For immediate release
January 30, 2017
More information
Tyler Huebner, Executive Director
608.255.4044
tyler.huebner@renewwisconsin.org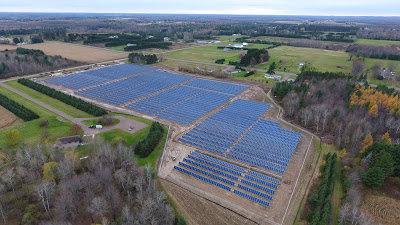 One of the Dairyland Power Cooperative arrays at
Taylor Electric Cooperative in Medford, WI.
The NextEra and WPPI project will be approx. 50x as large.
Today, an agreement was announced between NextEra Energy Resources, LLC and WPPI Energy to build a 100 megawatt solar energy project in northeast Wisconsin. The project, according to the companies, would be located on land adjacent to the existing Point Beach Nuclear Plant which operates in Two Rivers, and serve more than 23,000 people with affordable, clean energy.
RENEW Wisconsin Executive Director, Tyler Huebner, said, "This will by far be the largest solar energy project built in Wisconsin yet, and it builds on the continued growth of solar energy in the state. We congratulate both WPPI Energy and NextEra Energy Resources on the announcement of this project and their leadership in bringing more affordable, clean energy to Wisconsin."
This project will nearly triple the amount of solar we have built in Wisconsin as of today. According to RENEW Wisconsin estimates, 55 megawatts of solar are built or in construction today, and that is up from 25 megawatts at the end of 2015.
"Along with Dairyland Power Coooperative, which is building 20 MW of solar projects currently, WPPI Energy is showing that solar power is a competitive resource for electricity providers in Wisconsin," concluded Huebner.
The companies' press release can be found at: https://wppienergy.org/News/NewsItem?item=47
Media stories on the announcement:
– Op-Ed from Two Rivers City Manager Greg Buckley
– Major solar energy project slated for Wisconsin; Sun Prairie's WPPI Energy to buy the power