"I worry about my children and grandchildren and not leaving a mess for them. Having something sustainable for them. I think solar is a great idea. It's the gift that keeps on giving." These are the words of Mike, a navy veteran, and former police officer who lives in the James A. Peterson Veteran Village in Racine, WI. It's a complex of 15 tiny homes and a community center that is now powered by the sun.
Mike spent 6 years in the navy and traveled all over the world. After his service, he went to school and then joined the police force in Chicago. "I spent 20 years in law enforcement. You've been doing something so long. Then I lost my wife, my house. I was homeless when I found out about Veterans Outreach in Racine. Jeff and Shannon welcomed me in."
Mike was a yeoman in the navy, performing administrative and clerical work. This experience landed him a job in the Veterans Outreach office. According to Mike, Veterans Outreach of Wisconsin serves about 300 veterans per week in the food pantry. They also provide clothing, transportation (when needed), and tiny homes for veterans in the back. The tiny houses provide residents with a bed, television, and a small storage space. "You have to come out of there for the bathroom, shower, and the best kitchen in the world!" Mike said. "A lot of guys want to try to isolate, but you have to come in and you start talking. It's good that you have to leave that cabin. You get up, take a shower, check your email, and slowly get yourself back into it."
Veterans Outreach of Wisconsin is different than a shelter. It's a recovery program offering meals, classes, and connections. The organization helps veterans find jobs and offers financial classes and community meetings. "They are good people," Mike said. "They don't get a lot of money, but they seldom say 'no' to anybody."
According to the U.S. Department of Veterans Affairs, almost 38,000 Veterans are experiencing homelessness. While this number declined by 5% between 2017 and 2018, it's still a distressing statistic. This is what inspired Jeff Gustin to co-found the center in 2013. "The whole idea that someone puts a uniform on and ends up homeless is crazy. Our nation is better than that," Jeff said.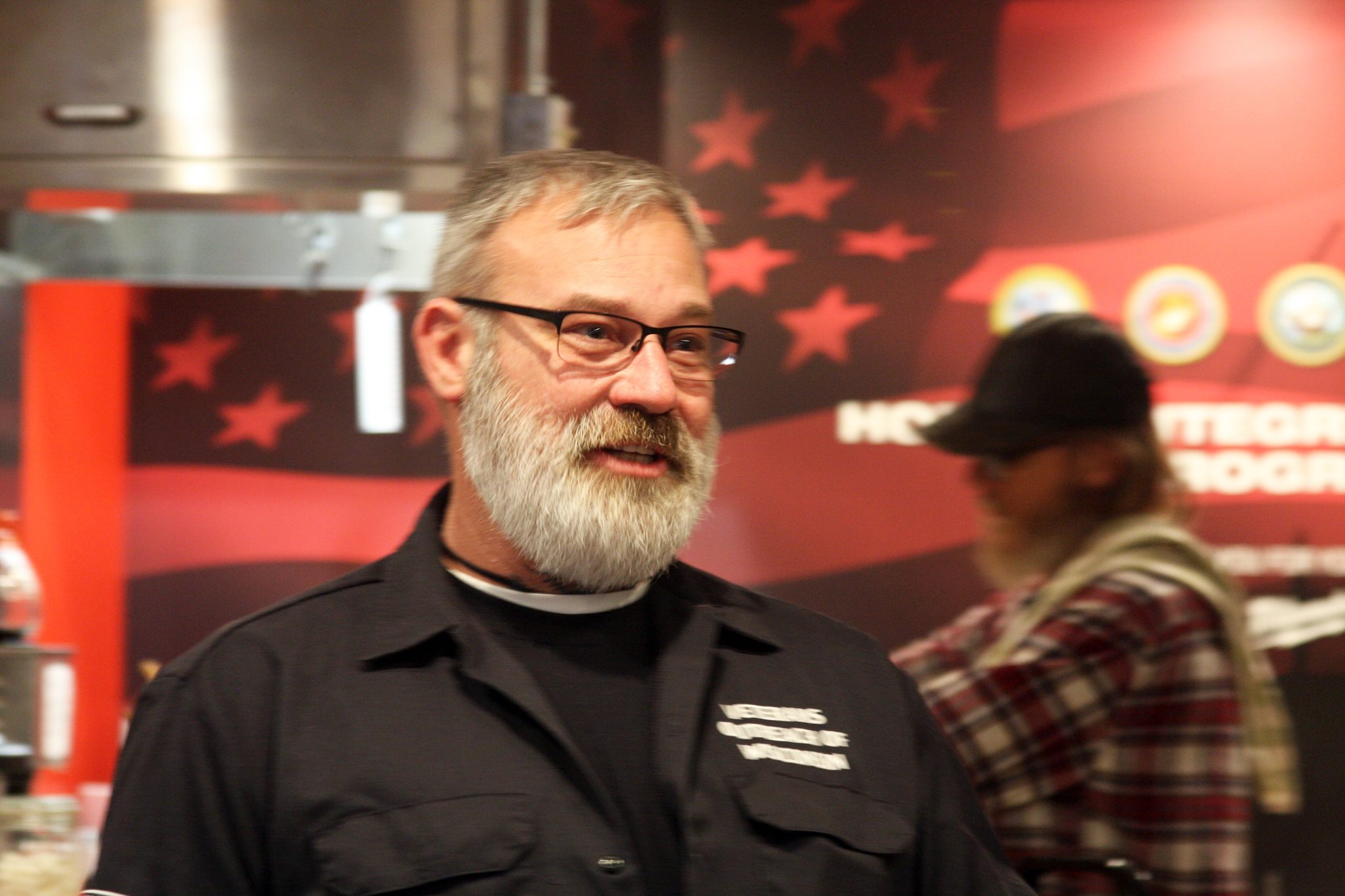 Walden Middle and High School, a school that focuses on the environment and sustainability, approached Veterans Outreach about helping them put solar on their SC Johnson Community Center. The Walden High School students raised over $20,000 for the solar project and the students' efforts inspired a $10,000 matching grant from an anonymous donor. They also received a $10,000 Solar for Good grant, and were awarded a Focus on Energy prescriptive grant. Veterans Outreach paid for the rest of the project with their own funding, costs they plan to recover through offset electricity bills.
"It took very little to get this off the ground for us. The school approached us about it. We weren't in a position to do this ourselves. We were just getting residents moved in and they ran with it. We had very little we had to do on our end and we're very grateful." Jeff said. The nearly 20 kilowatt array, installed by Arch Electric, is expected to save the organization almost $4,000 in annual utility costs. That's money that the Veterans Outreach can put towards their mission. "For the person that does the bills. It's huge for us," Jeff said.
Jeff, Mike, and the rest of the Veterans Outreach team are still learning about solar and seeing the actual cost savings at the end of the year may inspire them to look into other solar projects. They just bought two new buildings to accommodate a larger food pantry to serve their clients. "I'm glad we're lowering our carbon footprint. This is our future," Jeff said. "One day I might go back to the high school and ask them if they're ready for round two!"