by Tyler Huebner, Executive Director
On May 14th, Racine, WI-based SC Johnson was honored by the World
Environment Center as the recipient of the 2015 Gold Medal for International
Corporate Achievement in Sustainable Development.
This is a major award amongst large multi-national
companies, and only one company is recognized each year. SC Johnson became the second company to win
the award twice, after first receiving the award in 1994. Recipients from
recent years include Volkswagon Group, Unilever, IBM, and Wal-Mart Stores.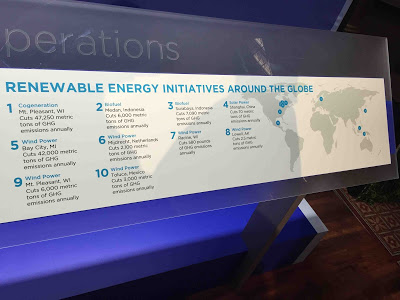 SC Johnson's global renewable energy initiatives poster
With financial support from SC Johnson, I attended the event
in Washington, DC to help honor the company.
RENEW's relationship with SC Johnson started about four years ago, when our
Program and Policy Director Michael Vickerman advised the company as it was
pursuing the installation of two wind turbines to help power Waxdale, one of
its major factories in Mt. Pleasant, Wisconsin, near Racine.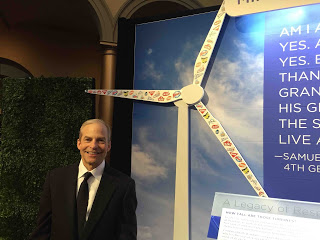 CEO Fisk Johnson proudly supporting clean energy
Fisk Johnson, the 5th generation CEO of the family-owned
company, was on hand to receive the award.
"Reaching for that ideal of trust and goodwill is what motivates us at
SC Johnson, and it's where we find our best answers and greatest
successes. This recognition today, which
I accept with great pride on behalf of all of the people in our company,
inspires us on even more."
U.S. Representative Paul Ryan presented the award to Fisk
Johnson, and he highlighted their investment in renewable energy resources
including landfill gas and wind turbines. Ryan said, "If you drive by Waxdale,
you see a capped landfill with the methane running into the generators, along
with the two windmills, making sure that they are purely 100% sustainable for
their factory producing these wonderful products. That just shows you how committed this family
is, and this company is, to this mission.
It's really impressive."
To view (most of) Paul Ryan's remarks, check out this video:
According to SC
Johnson, Waxdale produces an average of 100 percent of its electrical energy
onsite each year. Glade®,
Windex®, Pledge®, Scrubbing Bubbles®, Shout®, Raid® and OFF!®
are all among the trusted household products made at Waxdale.