by Tyler Huebner
Last month, Nick Korth, the Product Marketing Manager for Energy at HellermannTyton, invited me to visit their Milwaukee factory.
This is an impressive operation. HellermannTyton manufactures and distributes a number of parts that make solar installations possible, all across America.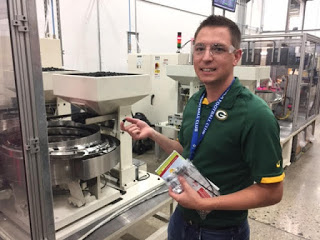 Nick Korth of HellermanTyton shows off a very small clip, for which
thousands would be used for a single utility-scale solar project. In his
hand is a sample kit of zip ties, plastic parts, and safety labels used to
comply with electrical codes for solar projects of all sizes.
From zip ties for wire management to small clips that are used in each panel, HellermannTyton makes millions of these small parts which go in everything from rooftop solar for homes to utility scale projects.
The company is also a leader in ensuring compliance with electrical codes. From wire management to labeling, the company helps solar installers ensure their projects are installed correctly and safely.
HellermannTyton makes this equipment right in Wisconsin, but sells it to solar projects all over the country. They have a number of assembly lines with huge presses for making both plastic and metal parts.
In addition, the company makes wire management systems for automobiles. Nick explained how the system below is for a modern gasoline-powered vehicle. He said the same types of wire harnesses for electric cars are at about twice as long and twice as thick.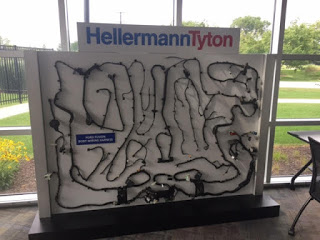 HellermannTyton is one example of many Wisconsin-based companies building the parts necessary to enable a clean energy transition, both for solar power and electric vehicles. Thank you, Nick, for the tour and education, and we look forward to seeing your products in more and more Wisconsin-based projects in the years to come!