Two Madison Churches Tap into a Higher, Cleaner Power
The sun is shining a little brighter this December on two church congregations in the Schenk-Atwood neighborhood.

Zion Lutheran and Trinity Lutheran churches are commissioning rooftop solar photovoltaic arrays that, once energized, will help power good works in and around Madison's East Side.
Trinity Lutheran Church, 1904 Winnebago Street, will host a post-Sunday service ceremony on the winter solstice, December 21st, starting at approximately 10:30am. Pastor Susan Schneider will deliver a blessing upon the 19.9 kW solar project, followed by a ribbon-cutting ceremony featuring local solar developer Kurt Reinhold and RENEW Wisconsin's Michael Vickerman. For more information, contact Michael at
mvickerman@renewwisconsin.org
or call (608) 255.4044×2.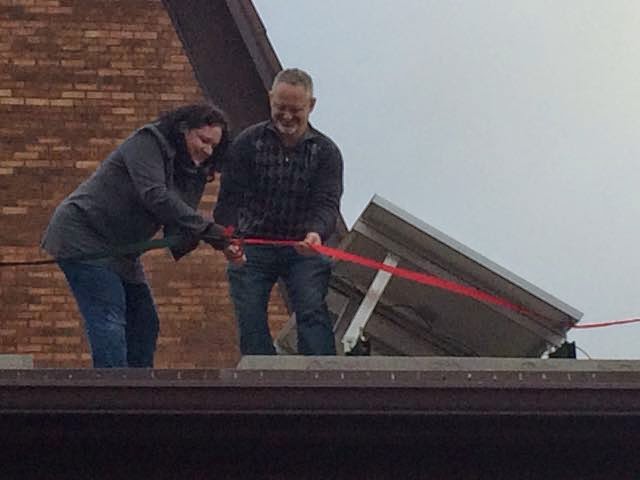 Photo Cred: Sustainable Atwood
Zion Lutheran Church, 2165 Linden Avenue, near Atwood Avenue, held its ribbon-cutting ceremony on December 17th. Intern pastor Stacy Gahlman-Schroeder led the dedication ceremony, followed by Pastor Jeff Wild from Advent Lutheran, which donated the panels to Zion.
Both Zion and Trinity's installations should be fully energized before the weekend.

Both churches are combining solar with efficiency improvements to maximize the value of the energy they use while at the same time improving public health, reducing environmental pollution, and cutting operational costs.
Background.

Sustainable Atwood's Solar Program helped bring the parties together for each of these two churches as part of its mission to move the neighborhood in the direction of a cleaner and more sustainable energy future
.

Zion Lutheran now hosts the offices of Sustainable Atwood's community operations, and became the spark for this joint venture. Until recently, the solar panels now on Zion's parish roof graced a Madison west side church—Advent Lutheran, off Old Sauk Road. When it commissioned its 2.8 kW PV system in late 2002, Advent Lutheran became the first solar-powered church in Wisconsin. These panels were taken down in 2013 when Advent's roof was replaced. Instead of putting its 12-year-old photovoltaic system back on its roof, Advent's congregation decided to acquire a much larger array, which was installed and commissioned in July 2014. Instead of selling their 18 panels, which even after 12 years will operate at 94% of their original productivity, Advent donated them to Sustainable Atwood.
Burke and Mark O'Neal, the brothers who own the solar contracting company Full Spectrum Solar on East Washington Avenue, are sponsors of Trinity Lutheran Church's solar project, which consists of 78 panels atop the south-facing roof along First Street. Members of the congregation and community residents can support this project through Sustainable Atwood's Switch-to-Solar program. For more information on this and other community solar projects, please contact Solarconnections@gmail.com.