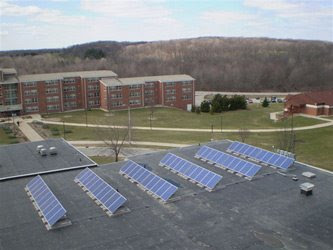 From an article published in the e-newsletter of Focus on Energy:
Drive through the UW-Parkside campus today and you'll notice a new energy on campus—solar energy, to be exact. UW-Parkside just put Kenosha on the renewable energy map in a big way with the installation of a 26 kilowatt solar electric system.
Under the guidance of UW-Parkside's Task Force on Sustainability, Don Kolbe, the university's director of facilities management, oversaw the installation of three separate, highly visible solar electric systems across the campus. According to Mr. Kolbe, "We [UW-Parkside] wanted a visual representation of the sustainability initiative that our university has been actively pursuing." These three solar electric systems will convert the sun's energy into more than 34,000 kilowatt-hours of renewable electricity each year (view real-time energy production here) that will help power the campus for the next 30-plus years. This energy production is enough to power three average single-family homes in Wisconsin and offset the release of more than 75,000 pounds of carbon dioxide (CO2), a greenhouse gas that is a major contributor to global warming.
The environmental attributes of this project are undeniable, but just as attractive is the portfolio of incentives from which UW-Parkside was able to benefit. According to Don Wichert, director of the Focus on Energy Renewable Energy Program, "With the confluence of state, federal, and utility incentives that are available for the installation of renewable energy systems, now is an excellent time to install a solar system." A $50,000 incentive through the Focus on Energy Program, a $100,000 grant through the We Energies Renewable Energy Development Program, generous donations, and the annual revenue that this system will net, all made this project financially viable.