As reported in the American Wind Energy Association's (AWEA) most recent snapshot of market activity, U.S. developers and electric utilities installed more than 4,000 megawatts (MW) of wind power capacity in the fourth quarter of 2017, accounting for more than half of the total wind generation placed in service over the last 12 months. In the final three months of 2017, 29 new wind farms came online across 16 states, including the 49-turbine, 98 MW Quilt Block project in southwest Wisconsin.
The 7,000 MW of wind turbines built last year pushed total U.S. capacity to more than 89,000 MW, which in an average year should produce enough electricity to equal the annual consumption from 26 million households. Wind power accounts for more than 8% of U.S. generating capacity in the United States today according to the U.S. Energy Information Administration.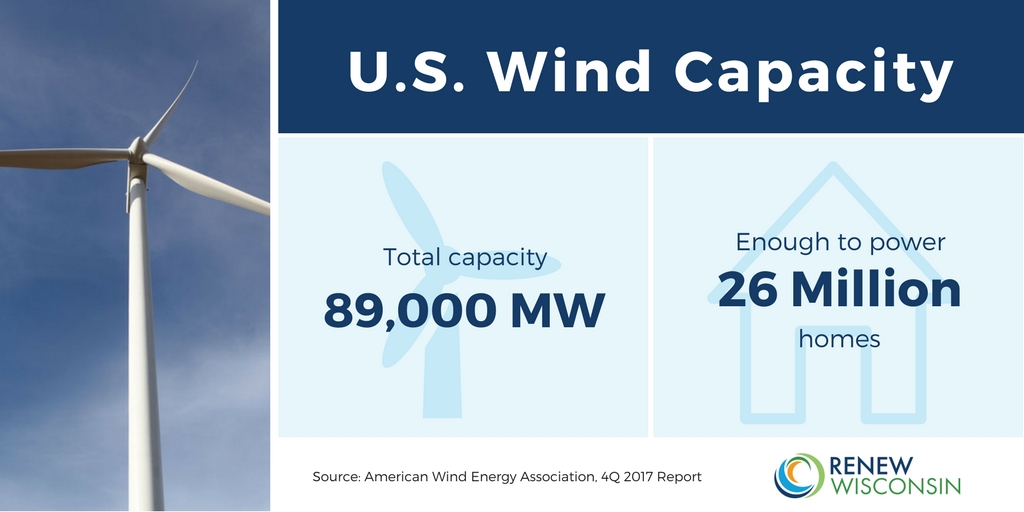 Development activity last year was particularly robust in the states of Texas, Oklahoma, Kansas, and Iowa. Large wind energy projects also sprouted up across the Upper Midwest, the second-most active region after the Southern Plains states.
Quilt Block is the first utility-scale wind energy installation to come online in Wisconsin since WEC Energy's Glacier Hills project in 2011. Owned and operated by Houston-based EDP Renewables, Quilt Block is now the most productive wind power project in the Badger State. La Crosse-based Dairyland Power Cooperative purchases the output from this project to supply the distribution cooperatives and municipal utilities in its system.
According to the AWEA report, the powerful growth experienced by the wind industry last year should continue in 2018 and beyond. The pipeline of wind farms under construction or in advanced development totals 28,668 MW, about one-third of the wind generating fleet now operating in the United States. Projects in the development pipeline should be completed and operating before the end of 2019.
Said AWEA ceo Thomas Kiernan in a press release: "This American success story will continue, with the wind project construction and advanced development pipeline four times greater than the amount installed in 2017. That means tens of billions in additional infrastructure investment is on its way to the United States of America."
Among Upper Midwest states (see table below), the near-term outlook for future wind development ranges from very active (states beginning with the letter "I") to quiet (Missouri and Wisconsin). In Wisconsin, there is no project in the development pipeline right now, a consequence of the ongoing absence of policy drivers for renewables and the comparative ease of permitting and building wind projects in neighboring states. It should be noted that two Wisconsin utilities are planning to add wind power to its power supplies this year, Madison Gas & Electric from a 66 MW installation in Iowa, and WPPI Energy from a 132 MW project in Illinois.